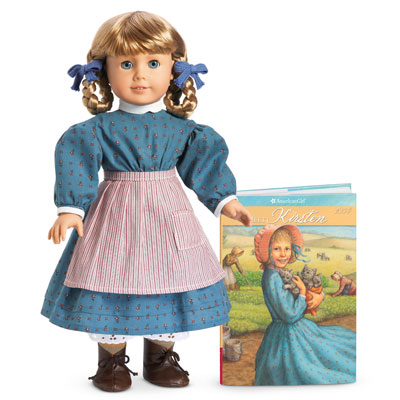 I will always have a soft spot for my Kirsten doll. I'm not saying that I don't love my other dolls, but whenever I find a doll either at a thrift shop or at a yard sale I somehow look at them as needing extra love and care. Yeah, I'm a softie for sure. I still remember the night that we found each other.
She was hanging in a plastic bag with all of the Barbies and Bratz, naked and with tangled hair. Going through the bags, my heart skipped a beat as I came across the familiar "Pleasant Company" neck stamp, and I grabbed her up. My brothers were in the toy section with me and I recall their looks of annoyance as I jumped up and down, silently screaming with excitement. Hey, if you found an American Girl doll for $3.99, I'm pretty sure you would be jumping up and down as well. I couldn't wait to bring her home to Josefina and Marisol; she was my third American Girl doll.
I do believe that my Kirsten doll is a transitional doll, meaning that she was made right after Mattel bought Pleasant Company. She is a bit larger than the Mattel dolls, and her eyelashes are not black and stiff like the more recent version. However, she is not as chubby as the Pleasant Company version, and her vinyl is not as soft as the older version, although it is not as firm as the Mattel version either. Transitional dolls really fall square in the middle.
I adore her long, ash blond hair, so most of the time I leave her hair out of the braids. Her hair is not as glossy as her modern lookalike MyAG #3 (light skin, blonde hair with bangs, blue eyes), which is the best way to tell them apart. Another way to tell them apart is by their hair length: Kirsten's hair is much longer, going all the way down her back and the MyAG doll's going a little past her shoulders.One word of advice for those buying used Kirsten dolls: a lot of times it is hard to distinguish between Kirsten and MyAG #3, since sometimes the hair may be cut. And although a brand new MyAG #3 doll has glossy hair, over time, the shine may wear out. Just pay close attention to the color of the hair; Kirsten's hair is not as golden blond, it's a lot lighter.
I highly recommend Kirsten, both as a play or collectible doll. Being that she was archived, you cannot buy her directly from AG, so try eBay or Craigslist. She was one of the original three historical dolls, which means that she was out for so long that finding a used or even new doll on the secondhand market for a great price is relatively easy. Her clothing and accessories are another thing; they usually fetch high prices, but with good reason as her collection is one of my personal favorites. Adding Kirsten to your collection is a definite must!
xoxo,
Kiya